PLUS SIZE BRAS

FIT GUIDE
Made of soft and smooth fabrics that deliver total comfort all day long, each of our Plus Size Bras offer a blend of support and lifting action for a curve-complementing look you're sure to love. Check out our guide to plus size bras to help find the styles that will work best for you!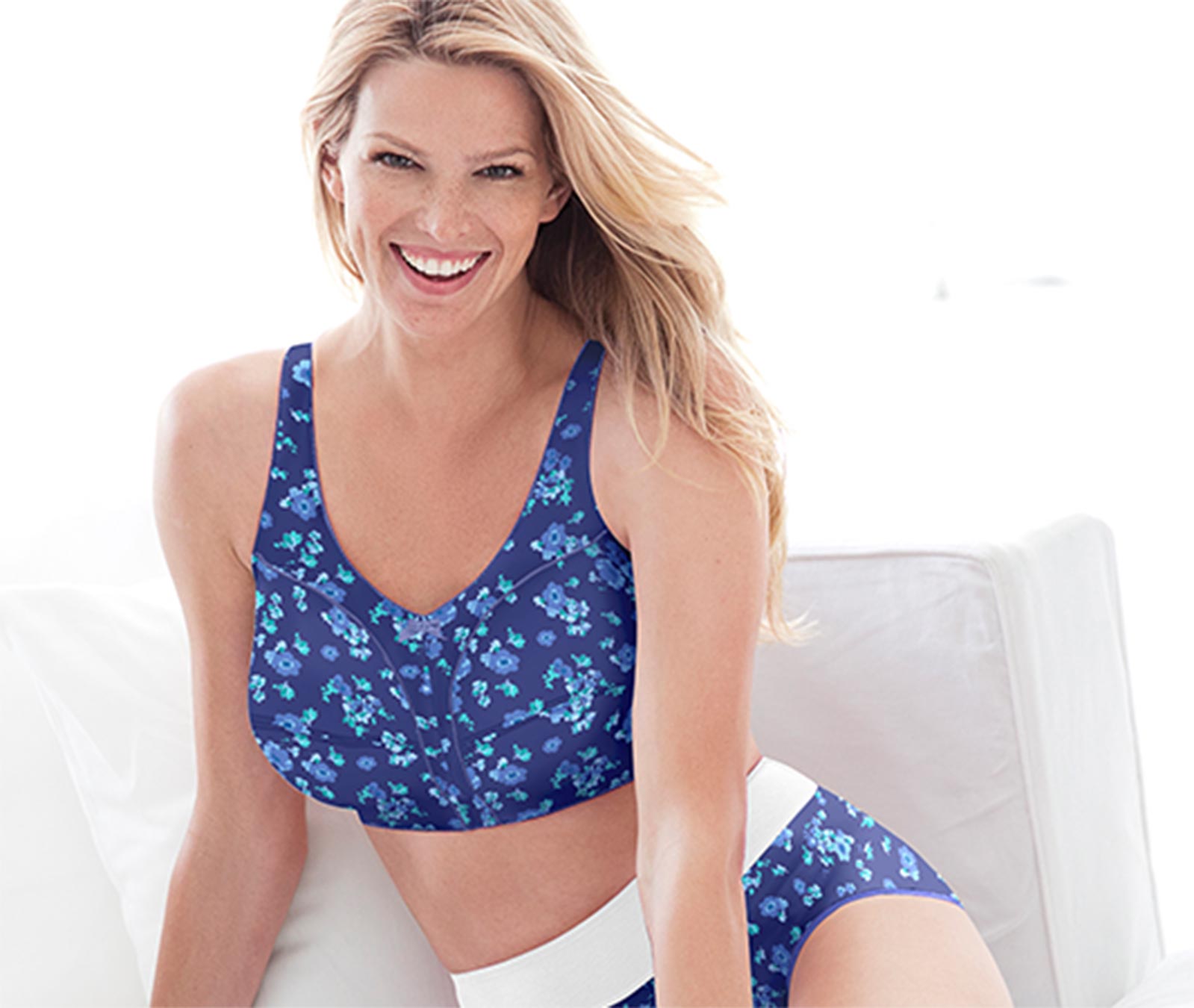 HOW OUR BRAS FIT
We know that construction and style are key to creating the best-fitting bras. We use 40+ key components focusing on strap comfort, band and cup support and center gore stability in our designs to ensure a consistent, comfortable fit.
HOW TO MEASURE
Finding the right bra is life changing. Here's how to find yours…
Measure Your Band Size: Put on your best-fitting bra. Wrap a soft measuring tape around your back just under your arms. If your measurement is an odd number round up or down to the nearest even size, depending on whether you want a tighter or looser fit. This is your band size.
Measure Your Bust Size: Wrap the tape around the fullest part of your breasts. This is your bust size. If the number is on the half, round up.
Find Your Cup Size: Subtract your band size from your bust size. Bust Size-Band Size = Cup Size. Please refer to the size chart on any of our bra product detail pages.
Your Perfect Fit: Combine your band size (from Step 1) and your cup size (from Step 3) for your ideal bra size.
OUR BRA TYPES
Depending on your body type, your outfit, your activity level, or your accessibility needs, we have the bra for you.
THE PERFECT FIT
The right bra should never be uncomfortable. Here are some tips to identify problem areas and how to fix them!
Center Gore: The gore is in the center where your underwire meets. It should lay flat against your skin. Go up a cup size or two until the gore lies against the skin and separates your breasts.
Band: The band should be parallel to the ground without riding up when you bend over. Fasten your band on the middle hook so it sits comfortably level on your back. If it digs in, try a looser hook. If it's still tight, go up a band size and down a cup size. If your band is riding up, tighten the hook or go down a band size and up a cup size.
Cups: The underwire (if applicable) should completely surround your breasts. The cups should fit smoothly with no gaping. If you're spilling over, go up a cup size. If there's gaping, go down a cup size.
Straps: Your bra straps should be tight enough to not slip off during the day but should never dig into your shoulders. Because they are adjustable, if you have the right band size, you can fix the straps for the perfect fit.
OUR INNOVATIONS
Talk about bra-mazing technology! Don't avoid wearing off-the-shoulder, halter, strapless, and asymmetrical tops just because you're lacking the proper support. Instead, shop our selection of convertible plus size bras with slip-free technology and 5-way straps. Struggling with back, neck, and shoulder pain? Try a specialty posture bra designed to gently force the shoulders and spine into alignment via reinforced crisscross bands and full, contoured cups. We know that having a mastectomy or breast surgery of any kind is often a life-changing event. Fortunately, we have specialty bras, like post-surgical bras with cups designed to hold breast forms, that can help ease the transition.